Transformed and looking radiant – that's the power of a facial. It goes beyond cleansing, exfoliating and moisturizing. Our luxurious, personalized facials rejuvenate your skin by restoring its health and beauty, with dramatic results.
Valmont and Biologique Recherche facials
The ultimate in Valmont luxury, this treatment refines the skins texture and calls forth the glow of a unified complextion. The skin is softer, smoother and altogther more radiant. Facial reflexology is performed with the signature LUMI boost. This massage targets organs involved in detoxification, focusing on specific areas of the face to brighten the skin. The signature Valmont butterfly technique is combined with the Iconic Prime Renewing Pack to completely revitalize the skin. 80mins includes 99% pure native collagen renewal sheet mask extended to hands and arms for the ultimate relaxation.
Transform your skin with a hyper-customized facial like no other, featuring Biologique Recherche. This service works with pure strengths of collagen, elastin and hyaluronic acid just to name a few. Products are manually worked into the skin using french facial massage techniques to lift and tighten, all while evening the skins tone and texture. Deep professional strength exfolation works to reduce bacteria and improve pigmenataion followed by LED light therapy to calm the skin. Specialty VIP Oxygen booster also avaliable.
The best friend to our Triple lift is the Bio lift. Working with non-invasive electric microcurrents this prevenative treatment delivers immediate results of supreme lifting, sculpting and firming of the skin, all while leaving a beautiful glow. For someone seeking a natural facelift affect. With regular visits, the cumulative effects offer preventative anti-aging measures.
The triple lift is one of the most requested facials and is an EVARA staple. This service not only gives instant lifting results, but incorporates a complete workout of the facial muscles. This acclaimed facial includes the most effective technology and techniques available. Topical peel, electric microcurrents, LED light therapy, manual lymphatic and sculpting of the face. This is specificly customized to your skin, ending with our pure collagen mask to illuminate the complexion. Your skin will be left significantly lifted, tightened and plump with that just back from vacation glow.
The skin rescue facial is a facial that is loved by all ages and skin types. This hyper-customized treatment reduces stress, energizes the skin, and is excellent in treating acne and boosting circulation. Pores are left super clean and tightened, giving a more youthful appearance. Topical peel, oxygenating masks and LED light therapy are used to recharge the skin cells. Added facial cupping is used to detoxify even the deepest layers of inflammation from underneath the skin. A complete facial reset.
Transform your inner and outer beauty with this high-end facial that combines proven Éminence organic skin care products with healing gemstones from the earth.
Recent lifestyle changes, illness and stress creates skin imbalances and dullness. Focus on organic remedies to detoxify, recover and promote healthy skin cell turnover. Deep exfoliation, pore by pore extractions followed by an infusion of pre and probiotics to balance and calm the skin.
Hyper-customized age defying facial combines a customize journey of organic mixology for your skins current needs with a focus on overall anti-aging. Experts hands and a thorough skin analysis will guide your esthetician to curate a specific treatment. Choice of NuFace microcurrent, LED treatment, mixology peel, high frequency or cold therapy may be combined for overall skin wellness.
Classically cleansing and hydrating, our traditional facial goes a step further with cool antioxidant serum infusions. Steam towels, detoxifying mask, and deep hydration to enrich and awaken healthy skin.
Strengthen the skin while regenerating the epidermis with this anti-aging and deep cleansing treatment designed specifically for men's unique skincare goals. Steam towels, detoxifying mask, and our signature facial massage complete this healthy skin experience.
The Patented HydraFacial signature medical-grade facial machine deeply cleanses, exfoliates, and extracts. Vitamin-rich booster serums penetrate the epidermis and hyaluronic acids deliver dramatic immediate results. The Platinum option includes LED Light Therapy, growth factor serum, and lymphatic to reduce puffy water-retentive skin. Booster included in all 50 and 80 minute Hydrafacials.
A non-invasive technique to smooth and refine skin by removing the top layer. This full facial is complete with a customized facial mask, LED therapy, and moisture surge hydration.
Performed by our Lead Master Aesthetician this unique treatment takes our Microchanneling to the next level. Combining advanced methods of exfoliation such as enzyme treatment, dermaplaning or microdermabrasion to completely resurface the tone and texture of the skin followed by Procell Microchanneling, collagen mask and LED therapy. This treatment gives the ultimate results! * Home care provided. You must pause retinol/AHA products 72 hours prior to appt. Botox/fillers wait 2 weeks.
A complete customized facial with our Lead Master Aesthetician. This service focuses on clearing and evening skin with a combination of dermaplanning or microdermabrasion to retexturize, custom peel, followed by high frequency and LED therapy to reduce bacteria and promote collagen. Caitlin's signature lifting and sculpting facial massage drains fluid and inflammation from the face, ending with an oxygen infusion for the perfect glow!
PCA Power Facial Peel is a customized facial peel for your specific skin needs. It exfoliates dead skin cells and impurities to reveal a brighter, more youthful-looking complexion. It also hydrates and nourishes the skin to help it look plump and healthy.
Precision lymphatic and facial contouring techniques based on LuminEssence™️ Facelifting Massage Signature service performed by lead massage therapist/esthetician Patty Fernandez. The combination of massage therapy, lymphatic drainage, and acupressure points assists in regenerating collagen and elastin tissue, helping to tighten, tone and firm the skin while diminishing fine lines and wrinkles. This pampering treatment will leave you grounded and glowing. *The 80 Minute Service include the Valmont Collagen Facemask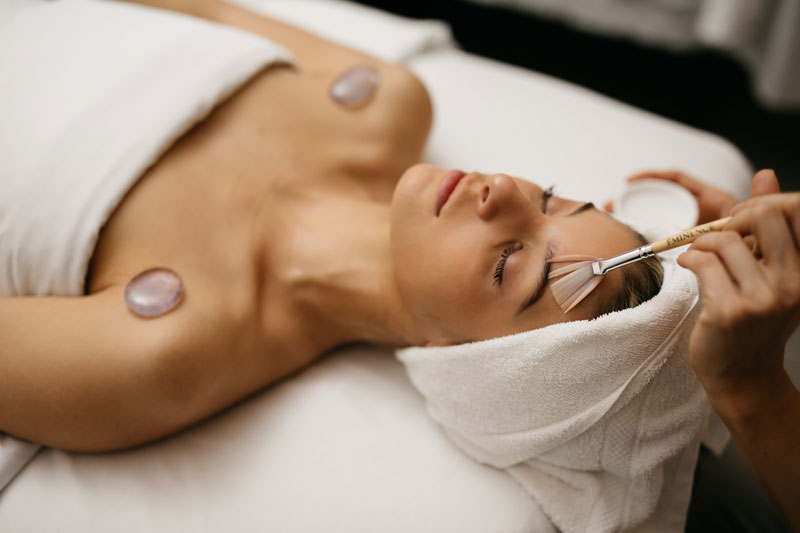 A 24-hour cancellation notice is required to avoid full-service charges
Please arrive at least 30 minutes prior to your spa appointment time
Please be advised that late arrivals may result in the reduction of your treatment time
For your convenience, a 20% gratuity charge will be added to all services as is customary for spa services
Prices are subject to change and may vary seasonally
A $5 Resort Fee per person will be added to your ticket, including all the spa amenities, a welcome glass of prosecco, spa snacks, and a beach chair and umbrella.
Guest attire can elevate or diminish the experience of others. We consider see-through clothing or exposed personal body parts inappropriate for our spa environment.  Elegant, comfortable, resort attire is most suitable.  Our staff takes pride in their appearance, and we ask our guests to respect our attire guidelines.